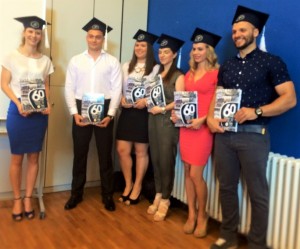 | | |
| --- | --- |
| Study | University Graduate Study of Kinesiology |
| Scientific/artistic area of the study programme | Social sciences, field Kinesiology |
| Duration of the study programme | 2 years |
| Minimum ECTS credits required for completing the study | 120 ECTS |
| Academic title and abbreviation | Master of Kinesiology, mag. cin. |
Learning outcomes of the Graduate University Study Programme Kinesiology:
Knowledge and understanding:
defining basic and advanced work principles  in kinesiology
defining scientific principles important for the analysis of movement and anthropological characteristics of a human
understanding basic principles of kinesiological education
Kinesiological analysis:
evaluating effects of motor learning based on feedback
applying acquired knowledge on identification of an initial condition, planning, programming and implementation of kinesiological treatments
analysing anthropological status of a human
choosing adequate methods and procedures in preparation of kinesiological treatmants
Planning and programming of kinesiological treatments:
primijeniti stečena teoretska i praktična znanja za razvoj i izvedbu kineziološkog programa prema postavljenim zahtjevima i specifikacijama,
definirati metodologije izrade kinezioloških programa u području kineziološke edukacije
primijeniti specifične multivarijatne statističke analize i pomagala informacijske tehnologije
Kinesiological practice:
odabirati i primijenit odgovarajuće kineziološke operatore, pomagala, mjerne instrumente u analizi čovjekova inicijalnog stanja,
objediniti i primijeniti teorijskih znanja i praktične vještine u rješavanju problema u području kineziološke edukacije, odnosno kinezioloških tretmana unutar pojedini primijenjenih područja kineziologije,
razumijevati primijenjene tehnike i metode te njihova ograničenja,
razviti svijest o utjecajima tjelesnog vježbanja na društvo.
Complementary skills:
učinkovito, samostalno i timsko djelovati te usmeno i pismeno predstavljati rezultata rada,
učinkovito koristiti razne metoda komuniciranja s društvom u cjelini,
razviti svijest o zdravstvenim, sigurnosnim i zakonskim pitanjima i odgovornostima kineziološke prakse
provoditi praksu po principima profesionalne etike, odgovornosti i normama kineziološke prakse,
prepoznavati potrebe i spremnost za uključenje u cjeloživotno učenje
Employment possibilities
Poslodavci koji zapošljavaju sveučilišne magistre kineziolgoje su osnovne i srednje škole, predškolske institucije, sveučilišta i fakultetu, laboratroriji i dijagnostički centri, sportski klubovi, društva i savezi, različiti sportski instituti, udruge za rekreaciju, kineziterapijske i rehabilitacijske ustanove, društva i udruge i sl.
Possibility of continuing the study at a higher level
Student koji završi ovaj studijski program može nastaviti studirati na Kineziološkom fakultetu u Splitu, na Poslijeddiplomskom doktorskom sveučilišnom studiju kineziologije.
Study/studies of lower level of proponents or other institutions from the Republic of Croatia which precede to the enrolment of the suggested study

Undergraduate University study of Kinesiology (180 ECTS)
Other related undergraduate studies
Studying conditions

Diplomski studij kineziologije izvodi se kroz dvije studijske godine. Svaka studijska godina ima dva semestra, odnosno četiri četvrtine. U svakom semestru student u pravilu upisuje 30 ECTS-a, odnosno u jednoj studijskoj godini 60 ECTS-a. Student završava ovaj studij kad sakupi svih 180 ECTS-a i obrani Diplomski magistarski rad.
Student u svakom semestru služa obavezne predmete i jeden do 3 izborna predmeta, ovisno o semestru. U prvom semestru studenti slušaju i polažu 27 ECTSa obveznih predmeta i 3 ECTSa izbornih predmeta, u drugom semestru 24 ECTSa obveznih i 6 ECTSa izbornih predmeta, u trećem semestru 21 ECTSa obvaznih i 9 ECTSa izbornih predmeta, te u četvrtom semestru Diplomski/magistarski rad od 21 ECTSa i 9 ECTSa izbornih predmeta.
Nastava na studijkom programu se u pravilu provodi kroz predavanja (grupa studenata do 150), seminare (grupa studenata do 36), kineziološke vježbe (grupa studenata do 18), laboratorijske vježbe (grupa studenata do 12) za predmete iz područja biomedicinskih zanosti, terenske vježbe (grupa studenata do 12) za predmete nekih sportova (Skijanje, Sportovi na vodi), te metodičke vježbe (grupa studenata do 10) za predmete Kineziološka metodika 1 i 2.
System of counselling and guidance during the study
Studenti svake studijske godine, na početku akademske godine, biraju po dva predstavnika studenata. Fakultetsko vijeće imenuje Voditelja studijek godine iz redova nastavnika i suradnika zaposlenih na Fakultetu. Nadalje studenti su organizirani i imaju Studentski zbor KIFST-a a koji ima pet predstavnika u Fakultetskom vijeću. Podrška im je dostupna preko Studentske službe koja je svaki radni dan otvorena od 8.00 do 14.00 za studentska pitanja. Predstojnici Zavoda kao i Prodekan za nastavu i studente, te svi nastavnici dostupni su studentu u njegovom vođenju i usmjeravanju tijekom studiranja.